These commands can be accessed by all users with Manage Server permission. If you were to kick Magic8 then reinvite, your settings will still be saved.
The Anti-Ping system is a method of preventing users from @mentioning a specified user. There are also bypass roles that can be set. For example, you'd set the staff roles of your server to be a bypass role.
It is actually impossible to prevent a user from pinging another. This system simply deletes the message and warns the user with a message you can customize.
Base Command: antiping or ap Anti-Ping Settings Menu
Auto Voice Channels created limited user voice channels for gamers looking for groups. Duos Trios and Squads are the three current options available.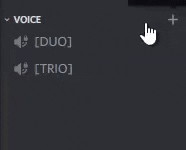 Base Command: autovoice or av
Magic8 can edit your server's icon and put a notification badge where a normal ping would be. Your old server icon will be saved and sent to you. There is a 5 minute cooldown between using this command.
Base Command: fakeping or fp
Magic8 pulls almost every message sent from a GitHub repository. Most languages are incomplete, but English is 100% done. If a language does not have the translations, it will appear in English. Languages are set or viewed by their abbreviation. Example: en (English)
Base Command: language or lang
The prefix can be set to anything desired, there is no limit on the length of it, just make sure that users are able to easily use it. @Magic8 will always be a working prefix. Simply run the command below and write a prefix afterwards. Anything after a space will not be saved!
Base Command: prefix or pf
Commands that are not in Information or Administrator can be toggled for all users within your server.
Base Command: toggle or tog
Click the commands below to be taken to further detail if the menu in Discord did not help you enough!
Base Command: settings or s